The clash of clans being with us since 2012, and it was one of the popular games.
Recently I have seen an image where the clash of clans official Twitter account says they will remove clash of clans from the play store.
Here I m going to tell the absolute truth behind this if it's real or not.
First, see the image which is circulating in the clash of clans community.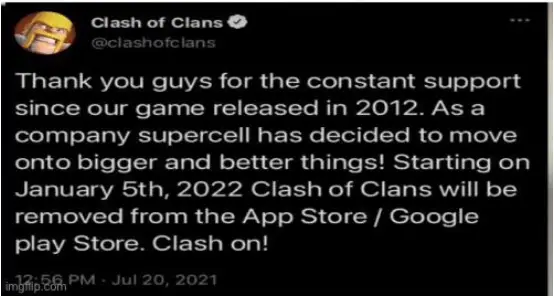 Clash of Clans Shuting Down
Clash of Clans is free to play a game in the play store or apple store for a very long time. It has been over a decade we have played clash of clans. Now the rumor is that the clash of clans will get removed in 2022 from Android.
I have seen many posts on Twitter. Instagram, Reddit, and Tik Tok, where people are showing it, will close down soon.
So the clash of clans will remove in 2022?
Clash of Clans will not remove from iPhone (iOS) or Android in 2022. The app still will be available on Android and iOS. So no delisting of the app will occur. But likewise, the supercell has mentioned about shut down on Twitter.
Supercell Shut Down
Its support of Clash of Clans is ending for iPhone and Android players running old OS versions because the old versions require a different set of code; that's why they will stop the supports. Android 5.0 will not be allowed to play the game.
Below is the original tweet from the supercell team.
Clash of Clans shared: "Due to technical reasons beyond our control, in the next update to Clash of Clans (later this year), we are unfortunately forced to end support for all Apple and Android devices running on OS versions lower than iOS 11 and Android 5.0, respectively.
"If your device is currently running on an operating system lower than iOS 11 or Android 5.0, you will no longer be able to play Clash of Clans unless you update to a later iOS/Android version. Please update to iOS version 11 / Android 5.0 (or higher) as soon as possible."
Now you can relax that it's not going to close down. People are worried about whether this is real or not. Are you sure Supercell will be able to remove their top-selling game ever that still earns them millions of dollars each month just by gold pass only?
Clash of Clans will be Removed
There was one more rumor circulating that the official clash of clans Twitter account has posted about the shutdown.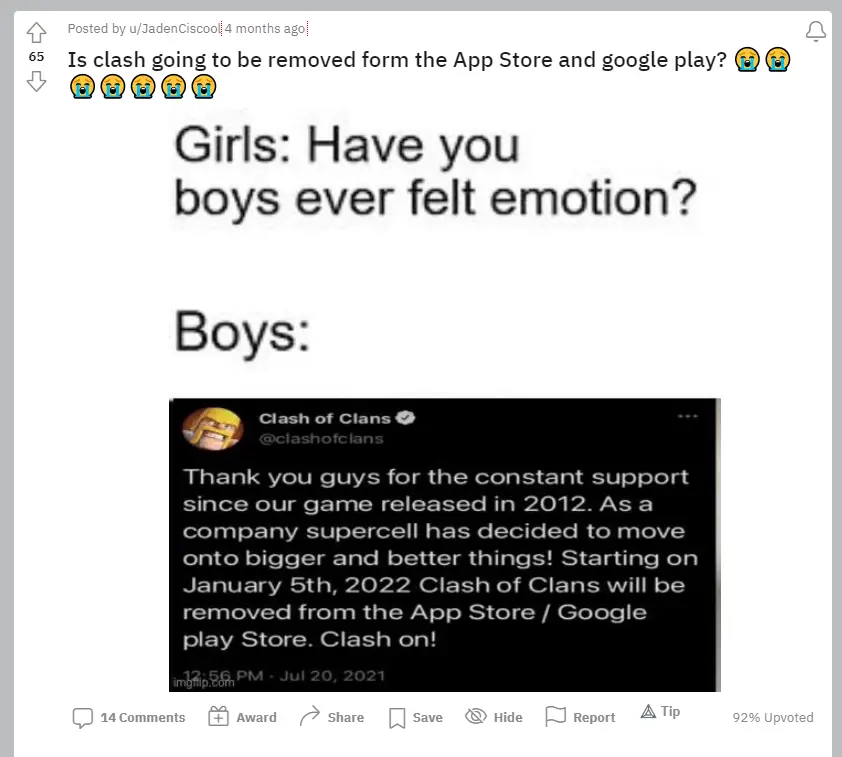 The above image is a fake that someone has edited with photoshop or with code. You can check the official Twitter account of the clash of clans, where you will not find this tweet. https://twitter.com/ClashofClans
You should always check on the official Twitter account of clans of clans if they made any post about removing clash of clans or such things.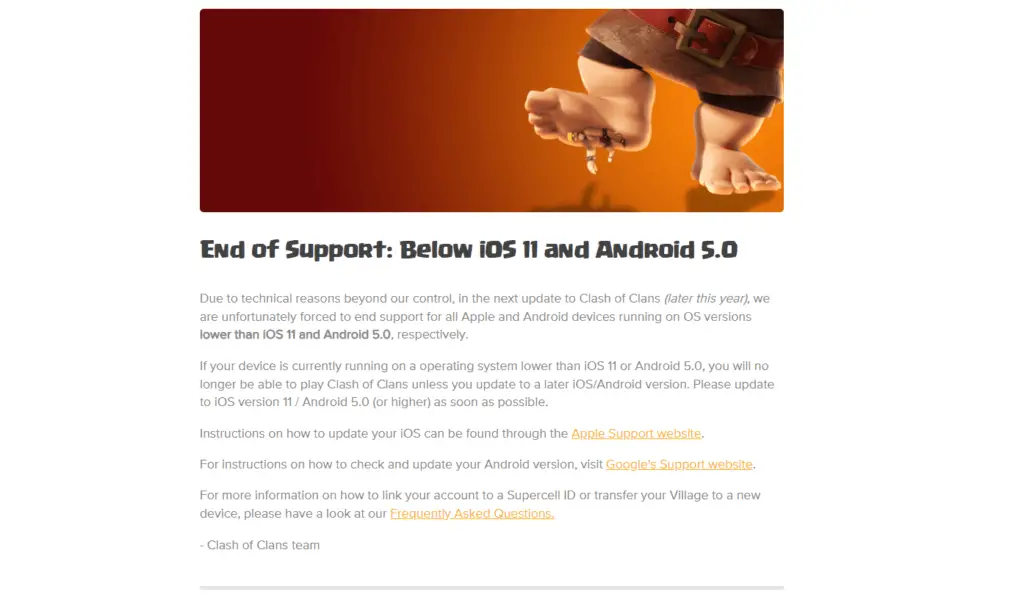 Clash of clans also has a blog where they keep up to date about clash of clans for there community.